Showcase Key Options
Dominion StoryBuilder® uses VIN data and AI-powered technology to automatically create a unique vehicle comment for each piece of inventory. Grabbing the key vehicle features, StoryBuilder builds stories that will catch your buyers' attention and create more website leads.
Save Hours of Work
With StoryBuilder, your team can eliminate hours of manual writing and focus on making sales. Simply create a template that works for your dealership and let StoryBuilder do the rest!
With our AI tools, new descriptions for each piece of inventory can be set to auto-generate every few days for the organic growth of your dealership's website. Makes the inventory feel "alive" with new descriptions every few days!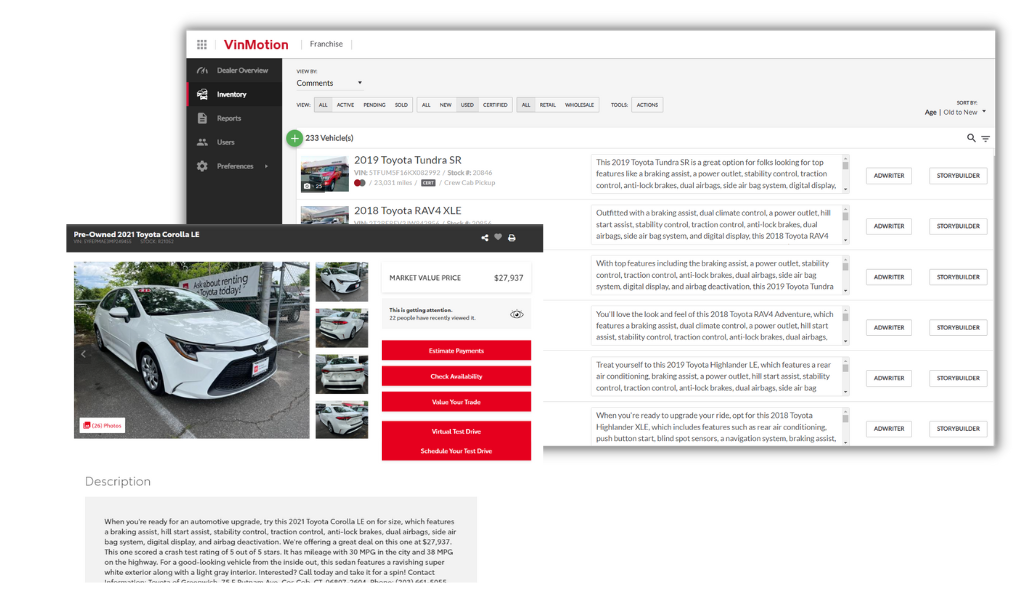 Move Inventory Faster
Based on a Dealer Specialties internal study, dealers using Dominion StoryBuilder® experienced

26.5% faster used vehicle turn

than those without StoryBuilder.
StoryBuilder pulls key vehicle features to the beginning of comments and creates stories that flow well, giving shoppers the details and confidence they need to make their purchase.
Get a custom quote for StoryBuilder AI